Product Description
Out of the question (s) – Treatment Monitoring Forms
Creative Ideas to Support Therapy through Forms, Drawings and Introspection.
The folder includes 132 different forms and worksheets, with the goal of developing self-awareness, self-acceptance, and change.
The work of the CBT practitioner requires a full understanding of the complexity of the patient's problems, along with finding creative
solutions. Such understanding is achieved by a comprehensive information gathering – during the sessions and beyond them. This is done by the self-reflection of the patient or observations
of others (such as parents and teachers). The reflection of the patient on his/her own thoughts, feelings and behavioral patterns constitute an important stage in therapy which allows the
patient to become aware of himself/herself. This folder contains a variety of forms to be used by therapists working with children and
adolescents.Some of the forms can be used as home assignments while others can be used to support the work done in different stages of therapy.The attractive forms contained in this folder are
designated to achieve the co-operation of young patients while turning the therapeutic process into an enjoyable one.
The folder is divided into six sections:
Section 1 – includes forms for the primary stage of therapy: gathering information in the initial interview, questions for the intake with the child and creative drawing-forms which relate to the patient's attitudes regarding the therapy sessions.
Section 2 – includes forms for monitoring thoughts, feelings, physical responses and behavioral patterns. These forms are designated for the initial stages of therapy and are used to
examine the coping strategies of the patient.
Section 3 – includes forms which focus on the therapeutic procedures: changing thinking patterns, disputing thoughts, examining perspectives and more. These forms can be used
effectively after the detection of existing patterns.
Section 4 – includes forms which focus on emotional regulation by the identification of different emotions (fear / anxiety / sadness / anger), their intensity level, the reactions they
arouse and the events which caused them.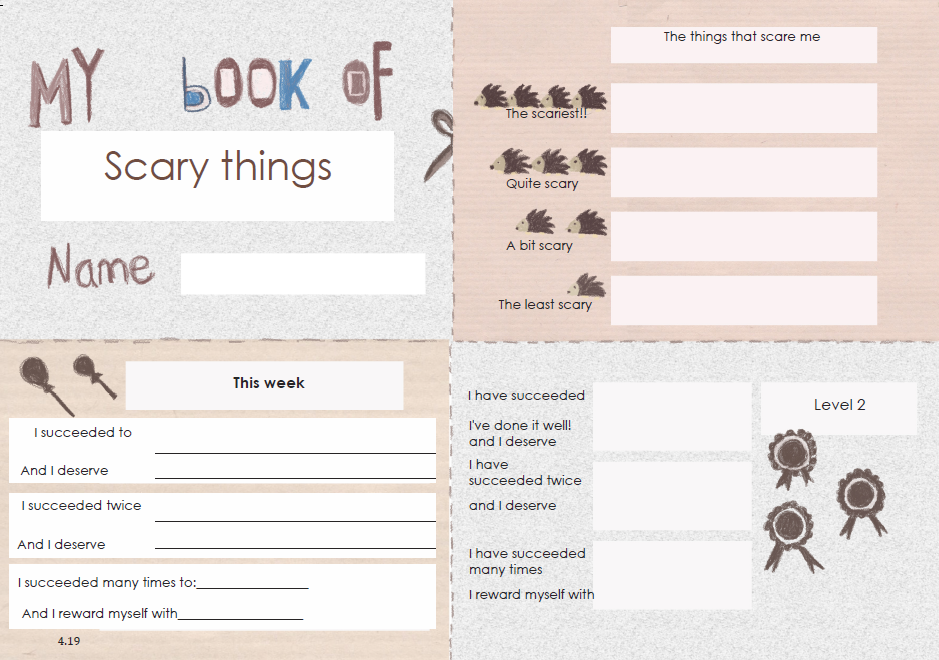 Section 5 – includes forms which focus on different levels of behaviors and coping such as: difficulties in social skills, self-destructive
behaviors, etc.
Section 6 – includes forms that focus on strengths, which can be used throughout the therapy period, and help increase the patient's awareness of his/her skills and abilities, as part
of increasing his/her self-efficacy. Additionally, there are two forms for examining changes undergone throughout therapy and six blank forms which allow the therapist to create
personalized forms with the patient forms are designed for a young audience with vivid illustrations, so as to develop motivation for the therapeutic process.